Trust Us with Your Dental Exams!
Dental exams are crucial for our teeth. Get quality care in one convenient location.
Personalized Dentistry for Everyone in Your Family!
Dental Exams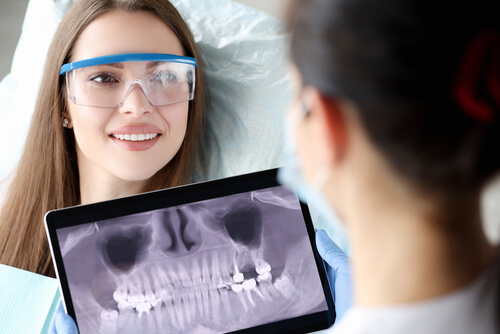 Dental exams are crucial for our teeth. These regular checkups increase our smile's lifespan by offering preventative measures, thorough cleanings, and filling cavities. Using X-rays and modern equipment, we can catch glimpses of infections in their early stages and treat them before they become problematic. Our dental checkups focus on high-quality experiences, long-term results, and comfortable treatment. Dr. Will Bates and our team are proud to offer the best dental exams in North Salt Lake, Utah.  
What are Dental Exams?
Dental exams, also known as dental checkups, are biannual appointments set with your local dentist. Usually performed by both a dentist and a hygienist, dental exams are crucial for preventative dental care, general dentistry, and overall oral health. Each dental exam will include a dental inspection, teeth cleaning, flossing, fluoride treatment, and sometimes an X-ray. These procedures will keep your teeth bright, healthy, and strong. We'll look for potential signs of infections and recommend ways to improve your oral health. 
Why Do I Need Dental Exams?
Dental exams are vital for your teeth, gums, jaw, and entire oral ecosystem. Preventing infection in one area keeps the other areas safe, and cleaning one area benefits neighboring areas. Dental checkups offer various benefits worthy of consideration: 
Check for Cavities.

Cavities are permanently damaged areas in the enamel of the tooth. Also known as tooth decay caries, cavities result from acids that wear down the tooth's outer shell. If left untreated, cavities can cause tooth decay or root canal infection. Keep cavities at bay with regular checkups, cleanings, and fillings. 

Prevent Gum Disease.

Gum disease affects millions of Americans each year. Avoid a similar fate by practicing good oral habits and regular dental checkups. We'll clean your teeth, remove plaque, and keep your gums in good condition. If infection arises, we'll be able to act immediately. 

Brighter Teeth.

Dental cleanings and fluoride treatment keep your teeth fresh and white. Your breath will also benefit. Take home a shiny row of teeth to impress your family and friends. 

Preventative Care.

Preventative dental care saves time and money in the long run. We locate inflammation, decay, and infection using X-rays and mirrors. Modern technology allows us to identify diseases earlier than ever before, giving us time to diagnose and treat the issue while it's still in its early stages. 

Increase Oral Health.

No matter how thoroughly you brush, it's always different when a qualified hygienist does it. Our hygienists reach hard-to-reach areas and scrape off plaque with specialized tools. These thorough cleanings are incredibly beneficial for oral health. 
How Often Are Dental Exams Required? 
We recommend dental exams twice a year or on a biannual schedule. Dental checkups every six months are the ideal time to check for cavities, gum disease, and other dental issues. 
When Should I Take My Child for Dental Exams?
The American Association of Pediatric Dentists recommends every baby receive a dental checkup when their baby teeth emerge or by its first birthday. Once they reach this checkpoint, they should continue to visit the dentist on a biannual basis. 
Do Dental Exams Hurt? 
No! Dental exams are widespread and painless. At most, you'll feel mild discomfort from brushing, flossing, or the flavor of toothpaste used. Pain only occurs if there's a previous issue, such as a cavity, root canal infection, or gum disease.  
Dental Exams in North Salt Lake
At Serene Dentistry in North Salt Lake, we offer a patient-centered approach that focuses on safety, comfort, and efficiency. We use state-of-the-art technology and the most advanced dental therapies to provide the best treatments in North Salt Lake, Utah. Dr. Will Bates and our team are happy to clean, brighten, and protect your smile. 
Ready for a dental exam? Schedule an appointment here to get started.