Enjoy a Fresher, Brighter Smile.
Don't hide your smile because of stained or yellow teeth. Professional teeth whitening will have you smiling confidently in no time!
Rejuvenate a Dull Smile with Teeth Whitening!

Teeth Whitening
Are you feeling down about your smile? You're not alone! A survey by the American Academy of Cosmetic Dentistry found that 96% of people believe a white smile is an important social asset. And we couldn't agree more – that's why we offer teeth whitening services at our North Salt Lake City, Utah office. 
Schedule an appointment today at Serene Dentistry of North Salt Lake – you'll be amazed by what we can do for your smile.
What Causes Tooth Staining?
Your teeth can become stained or discolored for a variety of reasons. Some common causes include:
* Drinking coffee, tea, or red wine
* Smoking or using other tobacco products
* Eating certain foods and sauces
* Taking certain medications
* Poor dental hygiene
* Aging
* Trauma to the teeth
Fortunately, no matter what has caused your tooth discoloration, our team at Serene Dentistry of North Salt Lake can help with our whitening solutions.
Professional vs. OTC Teeth Whitening
Professional teeth whitening is done under the supervision of a dentist, who can ensure that the bleaching agent is applied correctly and that the patient does not experience any adverse effects. Second, professional treatments use a prescription-strength whitening agent – more potent than any available OTC product. This results in brighter, more beautiful teeth and faster.
What is the Teeth Whitening Process in North Salt Lake?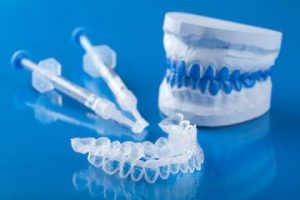 The process is quick and straightforward. Dr. Bates and his team will take accurate impressions of your teeth and create a digital model, from which we will design your custom-fit teeth whitening trays to ensure a perfect fit and optimal results. The trays will be molded to hug the contours of your teeth, thereby delivering the whitening agent evenly and uniformly to all of your tooth surfaces.
Once your trays are ready, we'll show you how to use them and provide you with the whitening agent. The agent is a specialized dental hydrogen peroxide gel, so you can be sure your teeth will be whiter in just one treatment.
How Long Does it Take?
The length of the treatment will depend on the severity of the staining. The entire process – from start to finish – usually takes about two weeks. For best results, it is important to follow Dr. Bates' instructions carefully and avoid eating or drinking anything that could stain your teeth during treatment. With regular use, you can enjoy a beautiful, white smile for years to come.
Can I Keep Whitening My Teeth for as Long as I Want?
Yes, you can keep whitening your teeth indefinitely. However, it is important to note that the results will not be permanent. You may need to touch up your teeth every few years to maintain your desired level of whiteness.
How Much Does It Cost?
Professional treatments are more affordable than many people realize, making them an excellent value for those looking to improve their smile. The cost will depend on the severity of the staining and the number of treatments required. Schedule an appointment with us, and we'll perform a thorough evaluation and informative consultation to help you understand the treatment process and the costs involved. 
Is Teeth Whitening Safe?
Yes, it is safe. The whitening agent used in our office is a form of hydrogen peroxide, which dental professionals have used for decades. The concentration of the whitening agent is much higher than what is found in OTC whiteners, but it is still safe for use.
The Best Teeth Whitening Service in North Salt Lake City, Utah
Don't spend another day feeling self-conscious about your smile – get it whitened at Serene Dentistry of North Salt Lake. Our teeth whitening system is more powerful than any over-the-counter whitener so that you can achieve dramatic results in a short amount of time.
A beautiful, white smile can make you feel confident whenever you flash it. Schedule your appointment today.