Trust Us with Your Family's Smiles!
Comprehensive general dentistry lets everyone in your family get quality care in one convenient location.
Personalized Dentistry for Everyone in Your Family!
General Dentistry
Achieving and maintaining oral health is much easier than you might think! All it takes is staying up to date with your dental checkups and teeth cleanings and then following through with our treatment recommendations.
As a general dentist in North Salt Lake, Dr. Will Bates offers the services your family needs in one warm and friendly environment. If you develop a problem, he will find the cause and provide expert treatment to get your oral health back on the right track.
Healthy Smiles Start with Oral Hygiene
All the services we offer work together to keep your smile healthy, but the foundation for it all is oral hygiene. Conscientious brushing and flossing at home help you avoid cavities and gum disease by removing as much bacteria-filled plaque from your teeth as possible. 
And when you follow up your efforts with professional dental cleanings every six months, you can be confident that your teeth are as clean and healthy as can be.
Dental Exams in North Salt Lake, UT
Even if you aren't experiencing any dental problems, we recommend visiting us twice a year for dental exams. Many oral problems develop and progress with no symptoms but damage your smile all the same.
When you have routine dental checkups at our North Salt Lake dental office, Dr. Bates can detect any issues that have developed since your last exam and take prompt steps to treat them.
All the Dental Services Your Family Needs
Our goal is to help you enjoy a healthy smile and an enhanced quality of life. But we know that things can go wrong, and we are here to provide the non-judgmental treatment you need if and when they do.
Tooth-colored fillings 
Dental crowns and bridges
Dentures and partials
Dental implants
Root canals
Tooth extraction
Wisdom tooth extraction
Emergency dentistry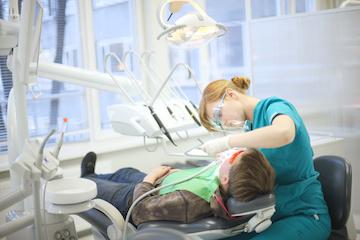 We are also pleased to offer sedation dentistry, including nitrous oxide and oral conscious sedation, at our comfortable North Salt Lake dental office.
Prompt Emergency Dental Care
Protecting your smile is our priority, and it's crucial to take prompt steps when you have a dental emergency. We don't want you or a loved one to endure unnecessary pain, and it's always better for your oral health to treat urgent problems sooner rather than later.
Some dental emergencies we commonly treat at Serene Dentistry are:
Toothaches
Lost fillings and crowns
Bleeding or swollen gums
Jaw pain and swelling
Infected or abscessed teeth
Broken dentures
Dental trauma
Dr. Bates is available for same-day dental emergencies for patients in pain and can't wait to be seen. Even if we can't complete treatment that day, he will ensure that you are comfortable and take the steps needed to protect your smile.
General Dentistry for All Ages in North Salt Lake, UT
We know the difference that a healthy smile can make in a person's life and entire outlook and would love for you to experience it for yourself. With general dentistry at our North Salt Lake, UT dental office, we can help you achieve a healthy, beautiful smile and keep it for life. 
Please call us at (833) 523-BITE to schedule an appointment. We look forward to meeting you!